Date Joined: 2015-02-06
New Update: 2016-06-17
Update Times: 1
Products Info: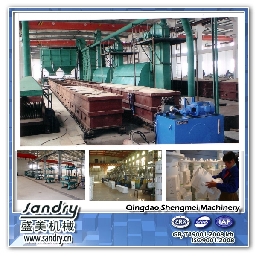 Lost foam casting molding line
| | |
| --- | --- |
| Post Time | 2016-04-01 |
| Casting Material | Black alloy,Non-ferrous alloy,Special casting materials,Pouring materials,Refractory materials,Cleaning AND restorative materials |
| Equipment | Sand processing equipment,Melting AND pouring machines,metal mold casting,Special casting equipment,Shakeout sand AND cleaning equipment |
Qingdao Shengmei Machinery Co., Ltd, which has a dozen years of history, is specialized in vacuum process casting machines, lost foam molding machines and resin sand reclamation equipments. Having twelve engineers who is specialized in mechanical design, three electrical design expert and two foundry technology expert, our company has wide experience in research and development, production, installation, debugging and service. has strong power of making and processing, covers an area of 10000 square meters, with Planer type milling machine, boring mill,Single column boring and milling machine and vertical machine center etc.
So far, we have about 200 clients who are from fields of car, mining machinery, concrete machinery, hoisting machinery, reducer, engineering machinery, valve, mold and machine tool, which has dozens of varieties.V process casting production line has been three years continuous to create industry first, the V process casting aluminium door and crafts for domestic first, represented by Zhejiang Mayang Industrial Co.,Ltd domestic first fully automated, remote assistance casting production lines, with three manipulator and two paint robot, total cost of nearly 3 million US dollar. Near by Qingdao can visit users more than 20. Have been exported to India, Iran, Malaysia, Uzbekistan, Kazakhstan, Russia and other countries, plans to set up offices in India in 2016.
Our company cooperative with Shenyang casting institute research non-ferrous metal casting technology, Anti-gravity casting. cooperation with Huazhong University of Science and Technology institute of foundry association,is the only Chinese V process association practice base. all products adopt CAD, SOLIDWORKS aided design, in foundry industry is one of the most professional, the highest technical content, yield the largest production and technology development center.
We always bear "Honesty is the source and we should produce boutique" in mind and insist on the business policy of "quality of survival, innovation and development, to manage for efficiency". With first-class technology, first-class products and first-class service, we wholeheartedly cooperate with you.
All colleagues of Qingdao Shengmei Machinery Co., Ltd warmly welcome you to visit our factory, guide our work and negotiate business with us.
Other products from this company