Event Dates:2022-12-05 -- 2022-12-08
Venue:Fuzhou, China

The first China Foundry Congress was held in 2000. More than 20 years later, it has developed into a comprehensive service platform and yearly festival for Chinese foundry industry integrating academic discussion, technical exchange, corporate management and practice, science and technology achievement presentation, recognition and awards, domestic and international exchange as well as economic and trade cooperation. Each year the congress gathers industry experts, including academicians and professors from various universities and research institutions, corporate technicians and managers, to show and exchange their research results and progress.
Event Date: December 5-8, 2022
Event Venue: Sheraton Fuzhou Hotel, China
Congress Theme: Technological Progress and Coordinated Development of Foundry Industry under the "Dual Carbon" Goal
Concurrent Conference: The 13th China Foundry Quality & Standard Forum
Organization
Guided by
Department of Industry and Information Technology of Fujian Province
Sponsors
Chinese Mechanical Engineering Society
China Foundry Productivity Promotion Center
Organizers
Foundry Institution of Chinese Mechanical Engineering Society
Haixi (Fujian) Institute, China Academy of Machinery Science & Technology Group
Shenyang Zhongzhu Foundry Productivity Promotion Center Co., Ltd.
Public Service Platform for the Industrialization of Innovative Achievements in Equipment Key Part Casting
Joint Organizers
Shenyang Research Institute of Foundry Co., Ltd.
State Key Laboratory of Light Alloy Casting Technology for High-end Equipment
Institute of Semi-Solid Metal Technology (Jiangle) Co., Ltd.
Fujian Advanced Forming Engineering Research Center of High-performance Al-alloy
Fuyao Group
Co-organizer
www.zzcycn.com
To deal with global warming, environmental pollution and other issues related to human survival and development, all industries over the world have reached a consensus to develop in a more green and low-carbon way. For China, the government has proposed a carbon reduction strategy in 2020: to "peak carbon dioxide emissions" before 2030 and to achieve "carbon neutrality" before 2060. "Dual Carbon" brings both challenges and opportunities to the foundry industry which is labelled with high energy consumption and high pollution.
Themed by "technological progress and coordinated development of foundry industry under the Dual Carbon goal", China Foundry Congress 2022 on basis of the common demands of SMEs, will gather foundry professionals and provide delegates with high-value content including policy analysis, advanced technology, market demand analysis, practice sharing, talents training etc. in way of speeches, bizmatching, expert Q&A, display, club.
Recognition & Awards
The Outstanding Scientific and Technological Workers of Foundry Industry
National Outstanding Contributor to Foundry Education and Training
Outstanding Contributor to Group Standards of Chinese Mechanical Engineering Society
MEICC: Casting Process Design Competition Excellent Organization Unit Awarding Ceremony
Commendation Ceremony for Outstanding Members of Foundry Institution of Chinese Mechanical Engineering Society
Innovative Foundry Technologies and Products
Thanks to Excellent Partners of China Foundry Congress
National Foundry Industry Photography Competition Awarding Ceremony
BizMatching - Efficiently Accelerates Resource Integration
BizMatching with European Companies on Advanced Foundry Technology
BizMatching with University on Scientific Research Achievements and Talent Training
BizMatching with Foundry Industrial Park
Exchange with Casting Purchasers

Congress Highlights
1. Plenary Session - Focusing on Industry Policy, Trend and Market
Influence of "Dual Carbon" goal on foundry industry
Opportunities and challenges of foundry industry from the perspective of clients
Standardization guides and promotes high-quality development of foundry industry
2. Speeches - Focus on Latest Technologies and Innovative Applications
Forum on Advanced Technology and Innovative Application of Cast Steel
Forum on Advanced Technology and Innovative Application of Cast Iron
Forum on Advanced Technology and Innovative Application of Nonferrous Alloy and Special Casting
The 13th China Foundry Quality & Standard Forum
3. Theme Workshop - Interact with Experts and Spark New Ideas
Expert Q&A—Solution and Analysis of Casting Defects
Auto-foundry Club Activities (Fuzhou)
Cost Management and Control Sharing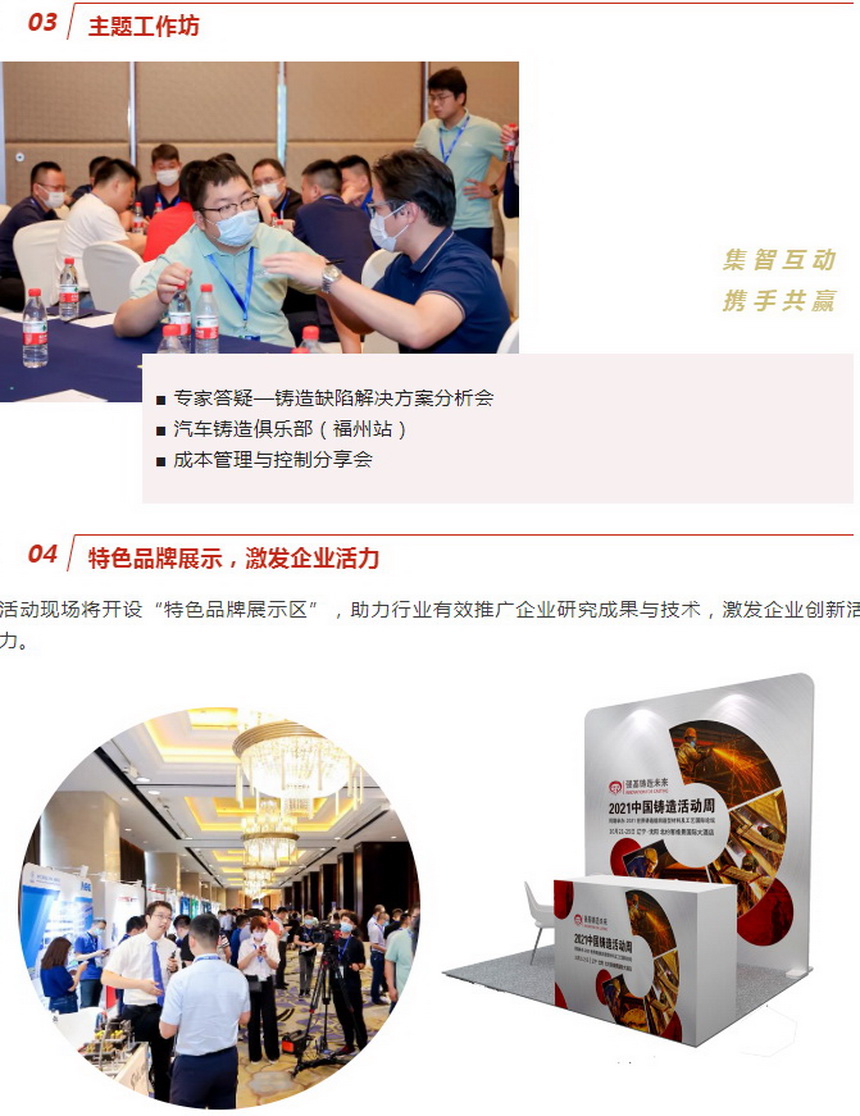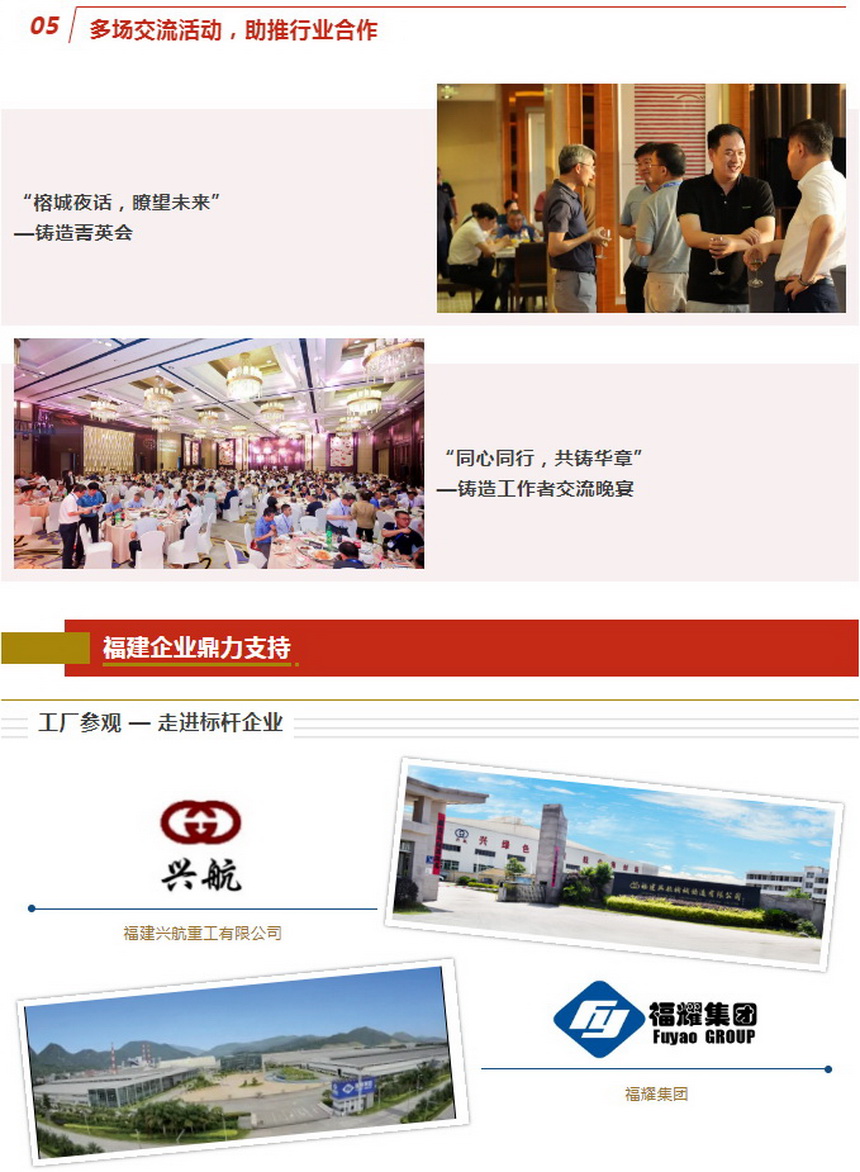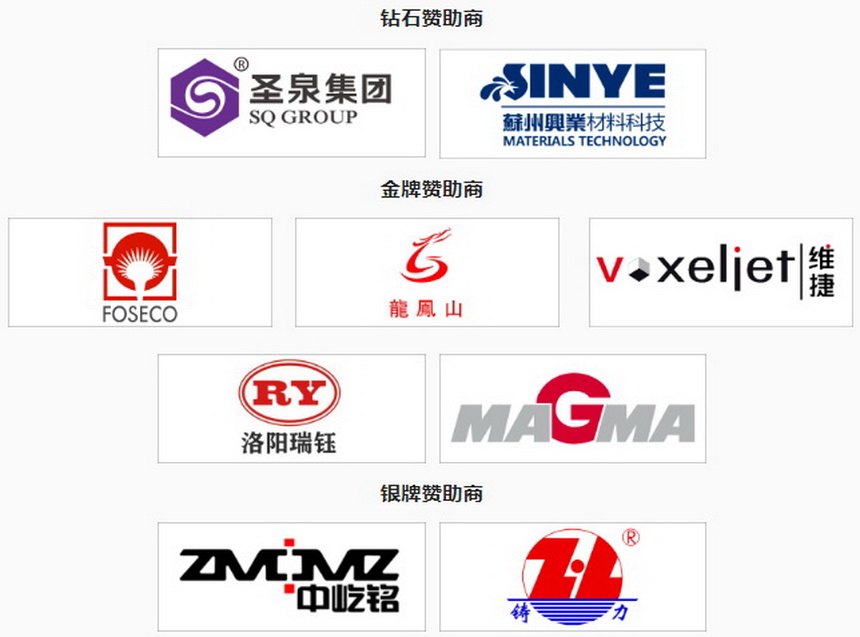 For charge standard and registration, please contact us.
China Foundry Productivity Promotion Center
Foundry Institution of Chinese Mechanical Engineering Society
Ms. Gillian Li
86-24-25855793
lmt@foundrynations.com
Ms. Christina Wang
86-24-25852311-203
wangxin@foundrynations.com