Event Dates:2023-04-12 -- 2023-04-13
Venue:Frankfurt, Germany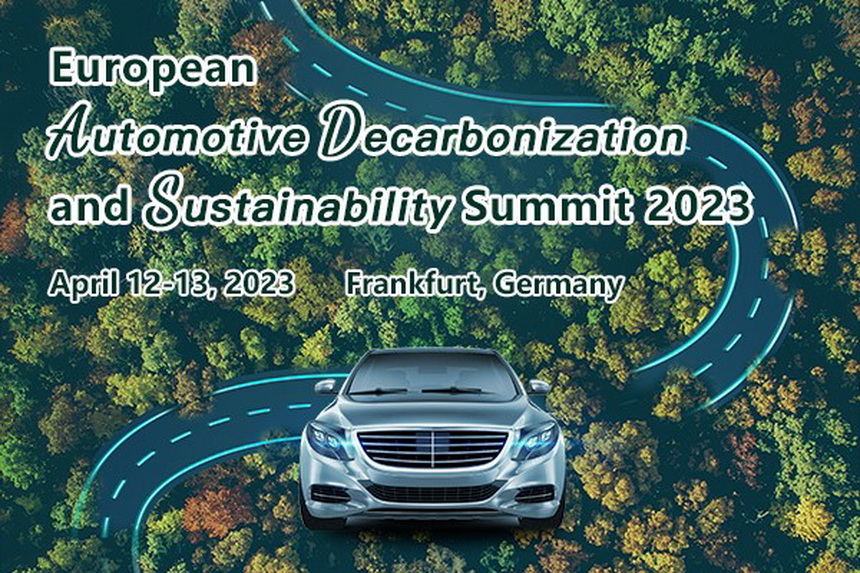 Event Background
Net-zero is forcing companies to reassess their carbon footprints and their operation's effects on greenhouse gas emissions and the environment. Automotive industry is one of the main resources of GHG emission, according to European Environment Agency, road transport constitutes the highest proportion of overall transport emissions — in 2020 it emitted 77% of all EU transport GHGs (including domestic transport and international bunkers).
It is very essential for the automotive industry stakeholders to take a holistic plan to decarbonise the life cycle of a auto. For example use sustainable and recycled material, intelligent manufacturing, electrified propulsion system, transparent supply chain, automotive recycling and so on.
European Automotive Decarbonization and Sustainability Summit 2023 will gather about 120 worldwide automotive industry experts and senior executive to talk about how to lower automotive industry environmental effects, and create a low carbon and sustainable automotive industry.
Summit Date:April 12-13
Location :Frankfurt, Germany
Organizer:ECV International
Presentation Topics
European Automotive Industry Go Green
The Road to Climate Neutral
A Holistic Approach to Decarbonisation
Leverage AI to Build a Reliable and Transparent Green Supply Chain System
Panel Discussion: How to Achieve the Sustainability and Net-zero Goal of Automotive Industry
Electrified Powertrain Decrease Transportation's Effect on Climate
Automotive Industry Decarbonization— Strategy and Digital Technology
Automotive Battery: A Key Enabler for Electric Vehicles Development
Highly Efficient Fuel Cell Trucks
The Green Transition of Automotive Supply Chain
Green Procurement: the Starting Point for Meeting Net Zero Targets
Green Finance Framework Supports Achieve Low Carbon Emission Target
Automotive Industry's Circular Economy Strategy
The Climate Challenges Brought by Lightweight Automotive Material
Embedding the DNA of Sustainability in Automotive Design
Embrace Bio-based Material, Make Green Auto
How Could Green Steel Support Net Zero Automotive Develop
Sustainable Aftersales and Circularity
……
Industry Sectors
Advisory Body
Environmental Policy Formulation Unit
Complete vehicle manufacturer
Semiconductor manufacturer
Solution Vendors
Infrastructure Supplier
Solution Integration Vendor
Automotive Innovative Material Supplier
Autopilot Solutions Provider
Automotive Interior Material Supplier
……
Job title
President
Chief Executive Officer
President of Innovation R&D
Partnership
Regional Director
Vice President and Director of Engineering
Vice President and Director of R&D
Vice President and Director of Marketing
Technical Director
Regulatory Director
Director of Business Development
Technical Manager
Engineer
……
Contacts
Wes Wei
Tel:+86-21-8026 0707 ext 803
Phone: 13271915990(WeChat)
Email: marketing@ecvinternational.com
About us
With a team of 100+ professionals specialized in events planning and execution, we held 60+ high-level online & in-person international summits around the world per year. The theme of the events involved in the fields of Vehicle, Energy, Manufacturing, Apparel & Textile, Footwear Industry, Digital Marketing, Carbon Neutral, Sustainability Development, Supply Chain, Finance, Digital Talent, Steel, Cyber Security and other traditional and emerging technology industries. We have served more than half of the Fortune 2000 companies and with 6000+ executives and delegates from top-notch corporations take part in our events each year.
We have successfully organized a number of industry-influential events through in-depth industry insight, well-managed customer relationship. Our mission is to provide professional services, connect and inform stakeholders the latest industry trends and best practices, and build a high-value social platform for industry executives. Help enterprise decision-makers meet challenges, seize opportunities and achieve efficient development and create more value.